Dental Clinic In Thane West, Mumbai
About Smiling Teeth Dental Clinic
Smiling teeth, a dental clinic in Mira Road & Thane West is renowned for offering comprehensive oral health treatment. The clinic uses the latest and cutting-edge technologies for its dental services. Our expert dentists in Thane demonstrate innovative procedures for a comfortable and hassle-free dental experience. Along with providing exceptional treatment, we distinguish ourselves by being easily accessible near you. Our clinic is located in a magnificent neighborhood of Hiranandani Estate, Thane west, Maharashtra, which makes us conveniently approachable. We are the smile keepers. We work hard to protect your confident smiles and make our services widely attainable to everyone who needs them. Our major objective is to improve the health and quality of life for people all over the world by giving them access to the best possible dental treatment and creating beautiful, healthy smiles.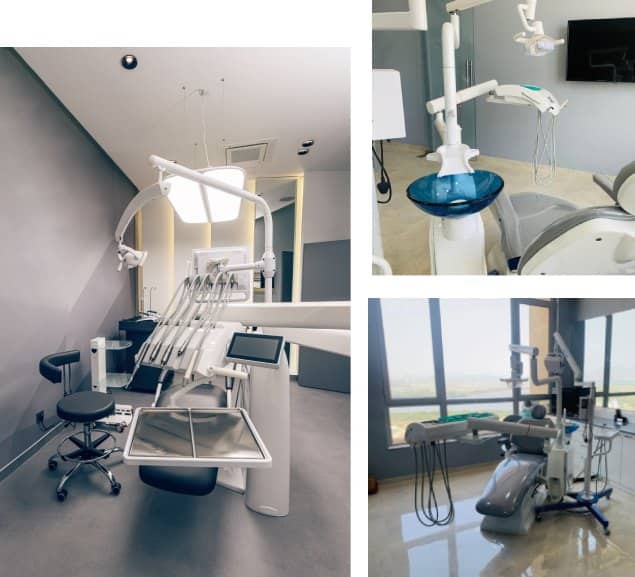 Smiling Teeth Dental Services
Smiling teeth offer a painless root canal treatment in Thane west at our dental clinic. Now the question is what makes root canal treatment at smiling teeth painless? The expert team of dentist in Thane at smiling teeth prevent mistakes from happening, and this combined with the fact that we employ unique, innovative procedures and cutting-edge tools results in a completely painless root canal treatment.
The Smiling Teeth is known for the best cosmetic dentistry and smile makeover in Thane west. To provide you with comprehensive treatment and makeovers we use the latest technologies and procedures available for dental services. Our team of a highly qualified and excellent cosmetic dentist in Thane, provide a conducive environment and constantly monitor your health and overall recovery.
Our clinic is the most advanced and well equipped to perform procedures like cosmetic teeth filing and teeth whitening in Thane west. With our uniquely designed in-house procedures the discoloration of the teeth can be reversed in the most effective way, giving people more and more reasons to smile. With a dedicated team of dentists in thane, you get the right treatments.
Orthodontic treatments nowadays are far better than they were in the 1970s and 1980s. There are many better possibilities like invisible aligners, thanks to advancements in technology. Our dentist in Thane will suggest the best course of braces treatment based on the severity of the misalignment, the patient's age, and the trajectory of the tooth's growth.
The best option for restoring lost teeth is implant dentistry, which has a strong track record of being successful. Dental implants may replace your missing teeth in the most natural way, whether you are missing one tooth or several. Our dentists at Smiling Teeth can design teeth implants in Thane West with extreme accuracy so that they completely match your smile.
The specialty of dentistry known as periodontics is concerned with the research, surgical procedures, and preventative care of the structures in the oral cavity that support the teeth. These tissues, the gums, are a crucial component of the oral cavity and require appropriate care. Our team of dentist in thane excels in the management of periodontics.
Full mouth rehabilitation or restoration is frequently used to demonstrate how all of the teeth in both jaws, upper and lower, may be restored or simultaneously replaced. It includes restorative procedures like crowns and bridges. Our clinic is well equipped to provide you full mouth rehabilitation in Thane west and our dentist will also continuously monitor your overall teeth health post-surgery.
Through our innovative techniques of geriatric dentistry in Thane west, we particularly focus on providing gentle care to the aging population. The dentists at smiling teeth have extensive experience working with elderly people and patients with Alzheimer's and dementia.
Children need more care and focus than any other member of their family, same goes for their teeth. Children are prone to many dental diseases such as Dental Cavities, Tooth Decay, Teeth Sensitivity, Gum Diseases, etc. Timely treatments and regular check-up can save your child's teeth from the possible arm. Visit the best Kids Dentist in Thane West
SCHEDULE AN APPOINTMENT WITH SMILING TEETH  DENTAL CLINIC IN THANE WEST, MUMBAI
Why Choose Smiling Teeth Dental Clinic ?
We want you to smile with confidence, as we have come to realize through the years of practice that a smile is the most beautiful thing in the world and hence our team of excellent and the most compassionate dentists are always available to assist you in obtaining the greatest smile possible in the most convenient way. Our top focus is to provide each patient with individualized, gentle, and comprehensive treatment. It's not only the dentists or the setting that make Smiling Teeth,the best dental clinic in Hiranandani estate, Thane West, It's our effort to innovate and create special patient-centric techniques as well as our commitment to ensuring that everyone can receive dental and oral health care, is what makes us stand out.
Please call 8097869836. Urgent care is provided usually on the same day.
SEARCHING FOR A DENTAL CLINIC IN  MIRA ROAD, MUMBAI.